Never in my wildest dreams did I ever think I'd end up in the Rain Forests of Borneo, and riding motorbikes too.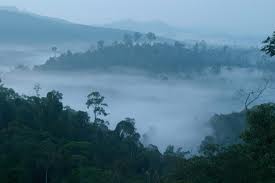 Like most things in my life, it seems that someone other than myself is directing the program. 😉 And they seem to be making a great job of it.
For those unsure of where Wild Borneo is, here's a map to pin point the place.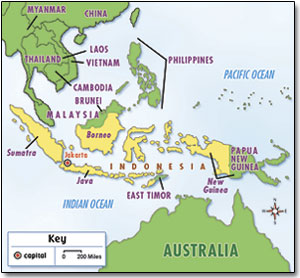 Also there is an amazing weblink you should really take a look at here . The video is only a few minutes long. Its breath taking, trust me its time well spent.
So Wild Wade comes face to face with Wild Man from Borneo.
Just in case your wondering…… I'm the one the on on the left.
Here in Sabah, we have loads of amazing twisty tarmac roads that climb 5000 ft over the Crocker Range and because there is very little traffic, its a bikers Paradise. And if you're into gravel, then the trails here are fantastic and get you closer to the real Borneo.
Please check out the BBA website, this is a great place to visit and there is so much more to do here. www.borneobikingadventures.com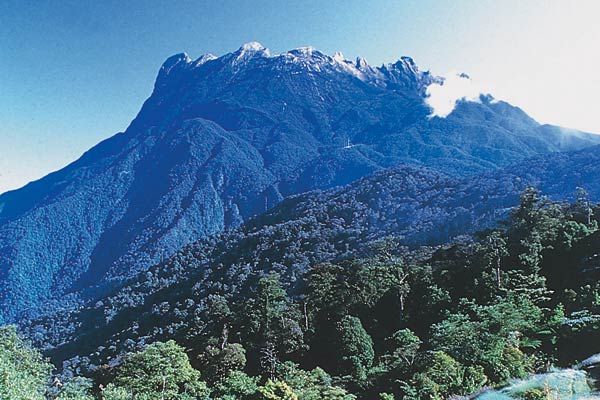 So here I am in Borneo taking bikers like you up close to Mount Kinabalu ( 14,500 ft) on breathtaking Adventures around this beautiful, beautiful country. Yes its a long way to get here, but I guarantee you'll go home with some amazing memories that stay for a lifetime.
So what do I do when I'm not riding around Sabah with customers?
I'm either riding through remote places looking for new trails. But sometimes things don't work out as planned. ( A long story as it always is, but the customer who was with me went home with a few war stories and photo's that have travell around the world 😉
Then we have 15 bikes that need to be kept up together. (PHOTO OF BIKES)
These are 2008 or 2009 Aprilia 650 Pegaso Trails, which we find ideal for the riding we do. And with the Yamaha engine, they are very reliable.
The wildlife here in Borneo is extreme in its diversity as you would expect with a jungle region. And nature has always been close to my heart, probably due to me growing up in the country. Out here I enjoy the Rain Forest and the strange and fascinating things you sometimes find, so in a very limited way I have become a collecting of some of the outlandish bugs and strange moths we come across.
A Rhino Beetle is Not something you want to hit when your visor is up 🙂
Then you get the odd ball stuff that can bite You.
But don't worry, it only hurts for a few seconds. 😉
Another avenue that gives me a great amount of pleasure, is writing fiction. I started dabbling with writing back in the mid 90's and an idea for a book gradually grew and only recently has this project taken on a life of its own. (due to another friend with a sharp stick) 😉
'Recycled Lives' is an intrigue Thriller, set in two overlapping time zones.
1940 in war-torn Germany and Present day.
Were the top men really caught and killed or did they have an elaborate escape route? Could the conspiracy still be going on? The huge stash of Gold raped from Europe has never been found. Was the war just a smoke screen, for some bigger plan, formulated in the 1940′s by a very clever ruthless man?
Like a story with intrigue, deception, love, and betrayal with a very strange twist. Then this story is definitely for you.
If you would you like to read the first Chapter? Follow this link. www.recycledlives.com Be my guest, I hope you enjoy it. 😉
20% of all funds raised from the sales of 'Recycled Lives' will go to help the local children here in North Borneo. Many kids miss out on education because of the remoteness of the village's, others because they have to work the land. And sadly, many because they are orphan's or have been abused.
Every child should have the opportunity to learn to read and write in a safe environment. Out here, a small amount of money goes a long way and can make so much good happen.
By buying 'Recycled Lives,' You are joining me in contributing to the children's future success. Together we are helping kids that are less fortunate.
By Recycling a small amount of cash, we are giving a helping hand to those kids who are unable to help themselves. Together We can make a big, big difference to so many lives.
I thank you in advance.
And now a final Thank You…… I count myself extremely fortunate because I have been blessed with family and several close friends that have pushed or encouraged me at different times and in different avenues throughout my life. Sometimes only a nudge or a planted thought seed, has motivated me to accomplish many worthwhile and rewarding endeavors. I thank them all, from the bottom of my heart.
And to You…….. maybe you should think about come and visit me in Borneo, there is so much to see and do. …. And to all ….X off-roaders….. I've got trails that will make your hair curl if you still have any. 😉
My best and warmest wishes to You.