Does a racing Career start with your very first bike? I think it does, but at the time you can't comprehend what will take place in the future.
When I look back, its was the same for me.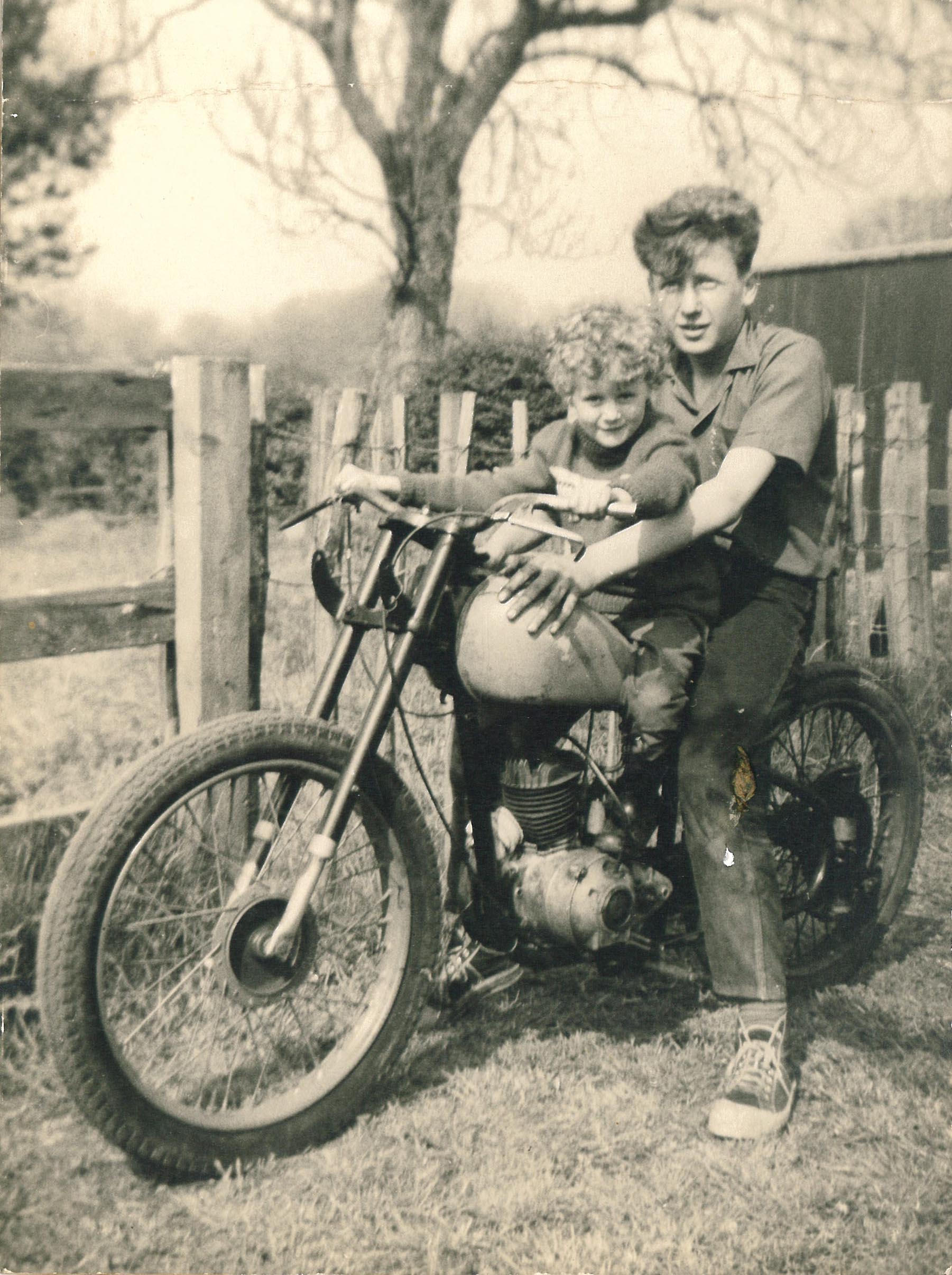 With the arrival of my first bike, I couldn't see any further than a tank of petrol, when it ran out I was grounded. Back then gas was one and threepence a gallon ( that's 8p in today's funny money)
The bikes us kids bought for a pound or two, then distroyed, makes the mind boggle.
Hand change BSA's, with girder folks, some with rigid backends that we cannibalised to keep us tracking round and round the fields. Those bikes we smashed would be worth thousands today.
So how did my racing career start?
If the truth were known, it was probably due to my father's frustration with me!
I was dyslexic, had big trouble reading and writing. So I found other ways to entertain myself and basically became a terrorist in the making.
The culmination of these endeavors was a very unexpected and extremely fast trip to the hospital, because of an explosive devise that tried to remove part of my right hand. Fortunately it looked a great deal worse than it was, but still took two operations and several months to fix.
The next summer when I arrived home from boarding school my father opened the garage and showed me a motor bike. To a 13 year old it was the most amazing thing, but it came with a very stiff lecture. "No more homemade guns or bombs….., or the bike goes."
From that moment on my father's wisdom was beyond reproach and his support for my riding was unwavering. We joined Toft Hill MC, they organised a Trail and three Scrambles through the year. So my first events was a trail, followed later by three scrambles.
The trial was fantastic, but a disaster. Me and Dad had ever been to a trail or a scramble before. So I attempted the trial on a 350 BSA with six inches of ground clearance. I remember doing a great deal of lifting and pushing that day.
Two months later my father and I did our first scramble at Toft Hill, on the 350 BSA.
Dad only did a 4 lap heat on the BSA and frighten himself going into the bomb hole. (wow, I wish I had photos of those days.) To say my father was red-faced and sweating would be a slight understatement.
I don't think I was last in my heats, there were older guys on even older bikes. The dust was horrific and the bumps looked huge, but I don't think I fell off once. ( I made up for that much later) For the next event, I had two bikes, the BSA and 197 Farncis Barnett, a very tatty converted road bike.
So my first season of racing consisted of four events. ( I think I was only 15, so this must have been 1961, but as this website builds, hopefully more info will come to light)
The next year we joined Northallerton MC, their track was at Carlton Bank. This gave me the opportunity to race three times at Toft Hill and probably the same number at Carlton.
Before the start of the following season, Dad had a rush of blood and bought me a new 250 Greeves MDS from Scott Wallace in Gainsborough. He also signed up with a couple of other local clubs, one being Thirsk who held the largest event in the north of England.
For me travelling south to similar big events was not possible because I was only allowed a one day pass from boarding school.
So Boltby International was to be my first big test. I found out later, it took a fair bit of wrangling by a few people to get me a ride. Their efforts and mine were rewarded with 13th overall.
By this time by MDS had been modified by a guy who tuned bikes. (he'd fitted a silencer and tweaked the engine) The problem was it sounded so slow because it was much quieter, but it moved me up the local rankings.
Then Dad came out with another pearl of wisdom, about the same time as I left school.
"If you want to be the best, you need to mix it with the top riders." From that moment on, we travelled the UK always picking the biggest events I could get into.
So the saga began and just about every weekend was taken up with racing.
A big turning point came in late March 1966 when Brian Goss broke his collar.
Many people have told me that life often deals you a hand your not expecting, but you have to be prepared to grasp it. I knew full well that I was not the first choice, but I got a phone call from Greeves competition manager Bill Brooker. 'Do you have a passport? Do you have an International Licence?' I said Yes to both. 'Good' he replied. 'Your going to the 250 World Championship in Spain, be at the Greeves Factory tomorrow with your bike.'
I managed to finish 7th overall.
By the look on my face, I was very unsure of what was going to happen to me. Bill Brooker with the ever-present cigarette, helps fastens on my racing colours. Harold Taylor FIM also gives a hand.
Three months later I signed my first works contract with the Greeves Factory, two months before my 20th birthday, what a great birthday present that was.
Over the next couple of years, success outweighed the disasters ( these were usually me leading the big race, but crashed )
1968
Saw me in California.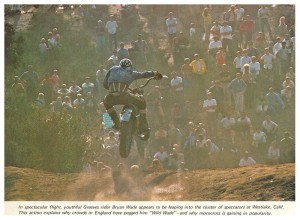 1969
250 British Champion. ( Greeves )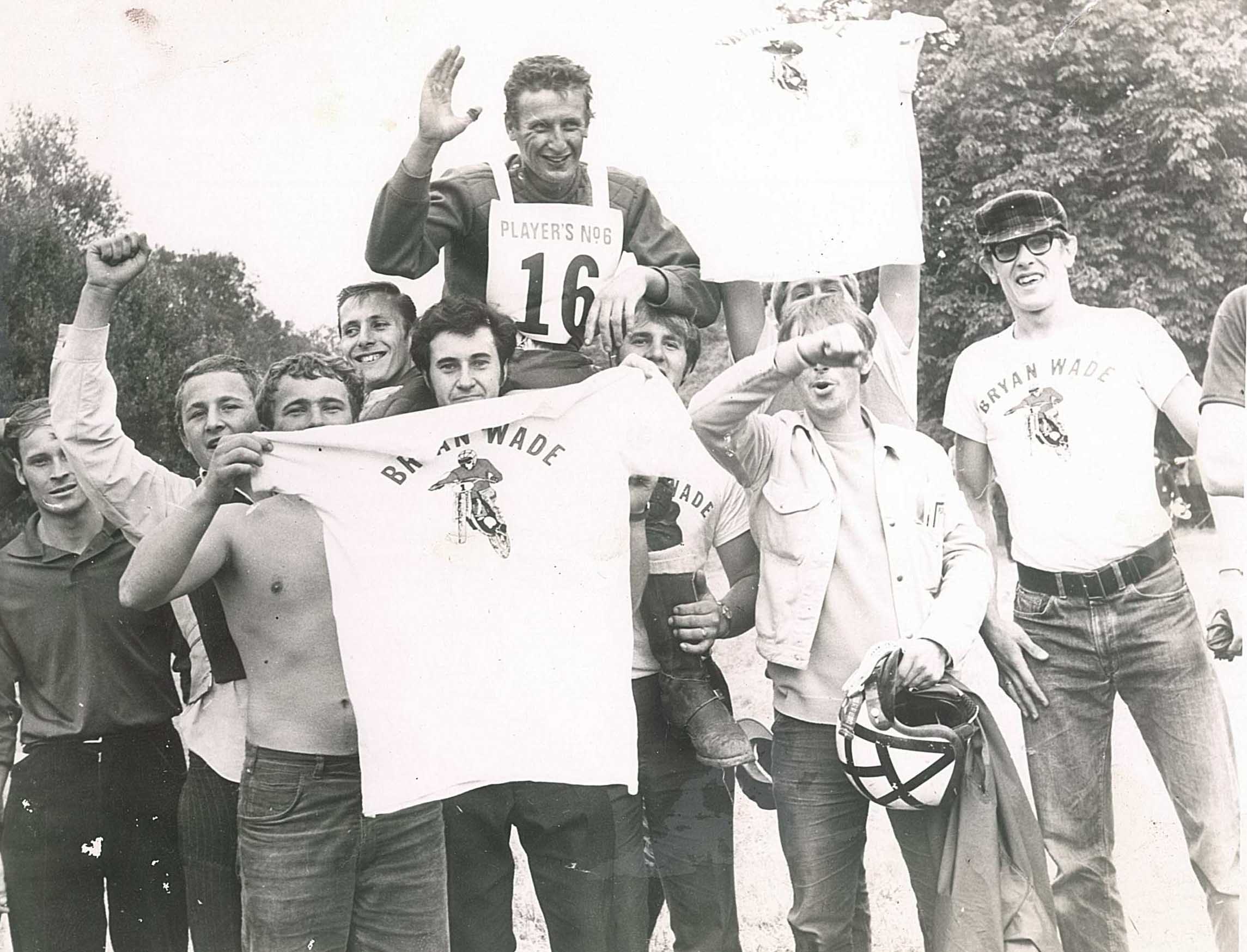 1970
Not a good year. A lot of failings from my end as I remember, and a fair bit of bike trouble, which I was rather vocal about. I think this was the year I had an operation to repair a snapped ligament in my left knee, which didn't work. Anyway, towards the end of the season I joined Husky and the man in the photo below, help me to achieve some very memorable results.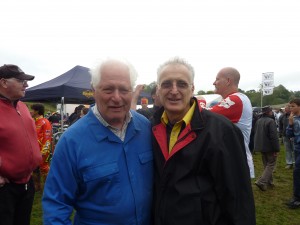 Ray Barber was my amazing mechanic for three years, while I was with Husky. It was a real joy to meet up with him at Farleigh Castle in 2011.
Then in 1971 came my purple patch: The Rider got his head into gear and became at one with the bike.
1971
250 British Champion. 2nd in the 500 Championship ( Husky )
1972
500 British Champion. 3rd in the 250 Championship ( Husky )
1973
125 British Champion. 2nd in the 500 ( Husky )
1974
125 British Champion. ( Suzuki )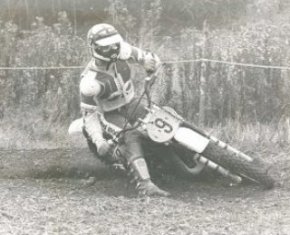 After two years with Suzuki, I wanted to try a few more bikes before the Adrenalin ran out.
So I had a very brief blast on a Villa, then a good run on Maico, before KTM.
My final ride came at the British Championship round at Hawkstone Park. I didn't know it at the time but the thought came to me during the first leg and in the second it crystallized.
Thinking about that moment as I write this. It was the right time and it was definitely the right place. I loved Hawkstone.
I'd lead both races from the start and held on for a few laps, but just didn't have the drive. Without a doubt the bike definitely did, it was all down to the rider, he'd had enough.
I think I finished 6th or 7th, somewhere in the top ten, but to me, the job was over, it was time to move on.
Early Days
Greeves
Husqvarna
Suzuki & Honda
c